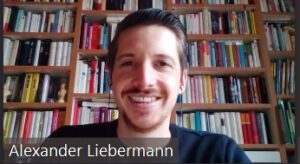 Teaching
Are you eager to deepen your understanding and enjoyment of music? As a faculty member of Juilliard's Music Advancement Program and an experienced private instructor, Alexander Liebermann offers personalized lessons in composition, orchestration, counterpoint, music theory, ear training, and music history. Dr. Liebermann's students range from aspiring musicians looking to hone their craft to film composers and artists performing in some of the world's most prestigious concert halls. Many of Dr. Liebermann's students have gone on to attend renowned music schools like the Music Conservatory "Hanns Eisler" Berlin, Berklee College of Music, and Manhattan School of Music. Whatever your goals may be, Dr. Liebermann has the knowledge and expertise to help you succeed.
Joining Requirements

To join Dr. Liebermann's studio, students must be at least 16 years of age and able to read music. Lessons are available in English, German, and French. For online lessons, students will need a device with a camera and microphone (such as a laptop, tablet, or phone) and access to Zoom video conferencing. Headphones are highly recommended to ensure optimal sound quality. If you meet these requirements and are interested in joining, please fill out the lesson request form here. The form includes information on class policies and payment, but if you have any further questions or concerns, please don't hesitate to reach out to us via the contact form. We look forward to helping you achieve your musical goals!
What Students Say
"Studying theory and composition with Alex has been an incredible adventure. […]. Not only has my proficiency increased in the art through these classes, but also my overall enjoyment of it." — Pablo Crespo
"[…]. In counterpoint or orchestration, Alexander has been one of the best musical mentors I've ever had. As a jazz guitarist, I feel I've been growing so much more with his help." — Eduardo Rodriguez
"After multiple years in the film music industry, I've decided to strengthen my knowledge in Music Theory with Alex. […]. The versatility he has in the musical world has been incredibly inspiring, not only in my academic journey but in my own personal artistic growth." — Santiago Arias-Rozo
"Always very captivating and dynamic, he shares his vast culture and personal experiences. The classes are well prepared, and he leaves me material to work on and study at home, being always available for any help. I am very happy and satisfied, I have evolved a lot!" — Francisco Lucena Pais